Child and teacher killed, 43 hurt when school bus collides with dump truck in New Jersey
Updated 41 mins ago
MOUNT OLIVE TOWNSHIP, New Jersey (WABC) -- A child and a teacher were killed and 43 injured when a school bus carrying fifth graders on a field trip collided with a dump truck in New Jersey Thursday morning.
The crash happened just before 10:30 a.m. on I-80 West in Mount Olive Township, with the bus ending up on its side in the grass median with the front end completely torn off.
Photos from the scene: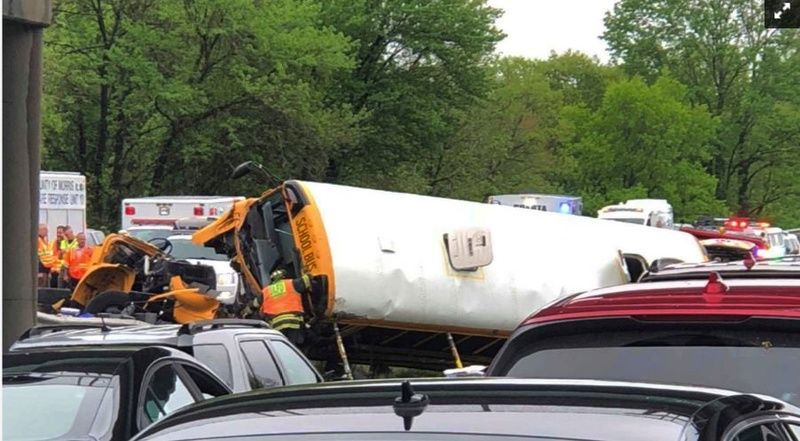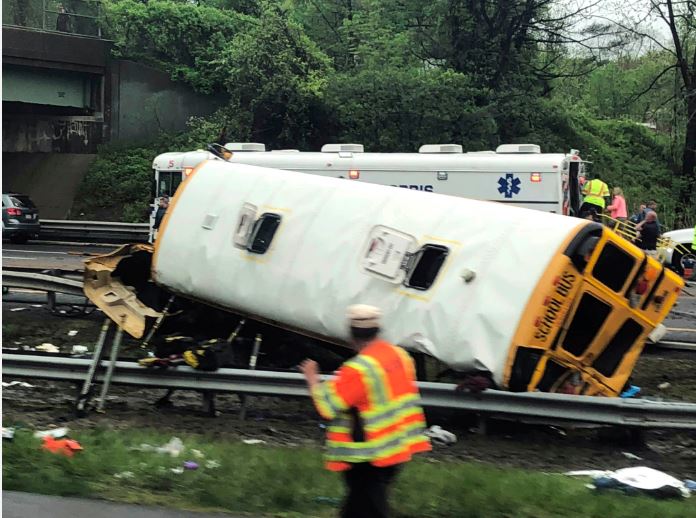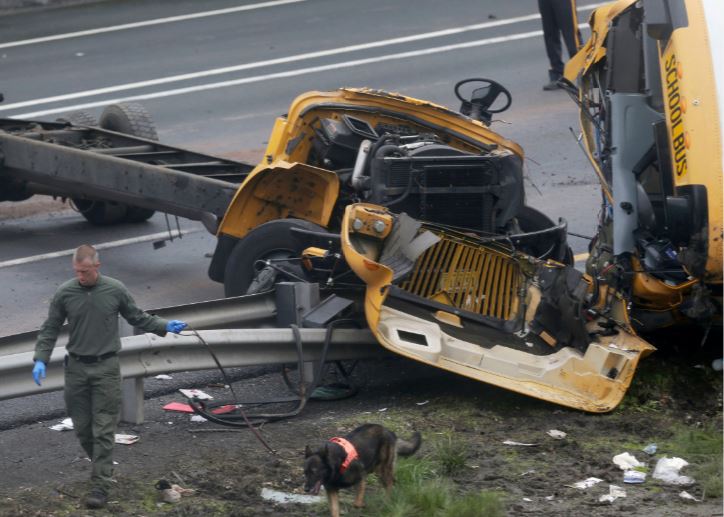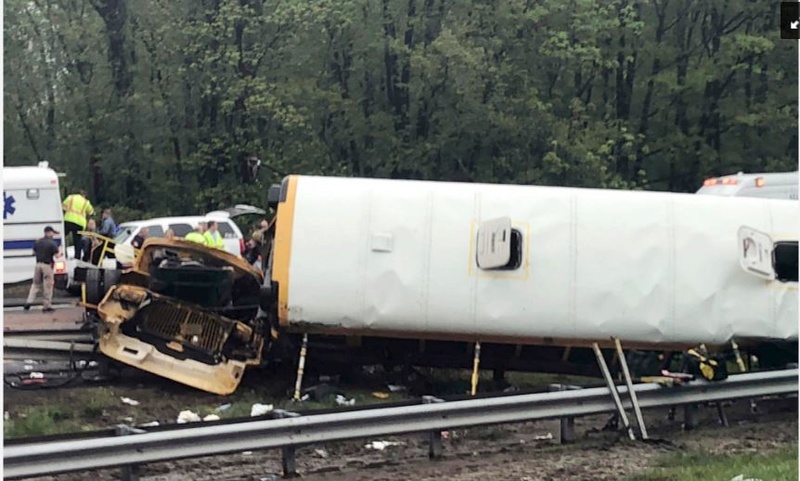 The identities of the victims were not immediately released, but authorities say one was a child and the other a teacher.
"Our hearts are broken by today's tragedy," New Jersey Gov. Phil Murphy said.
The bus was carrying 38 students from East Brook Middle School in Paramus and seven adults, including the driver. It was headed to Waterloo Village as part of a field trip.
The crash left the bus lying on its side on the guardrail, its undercarriage and front end sheared off and its steering wheel exposed. Some of the victims crawled out of the emergency exit in the back of the bus and an escape hatch on the roof.
Cleanup crews moved the wreckage of the bus Thursday night and I-80 was reopened in the area. Investigators searched for clues and focused on the rear of the bus, the point of impact.
State Police are investigating whether the school bus driver got separated from two other buses, missed his exit, then made an illegal U-turn moments before the bus was rear-ended by the dump truck.
"I heard a scraping sound and we toppled over the highway," said student Theo Ancevski, who was sitting in the fourth row of the bus and was treated at a hospital for cuts and scrapes. "A lot of people were screaming and hanging from their seat belts."
Around a dozen people remain hospitalized, at least one in critical condition.
"Our thoughts and prayers continue to go out to them as they recover," Bergen County Executive Jim Tedesco said. "This community has been strong, will continue to be strong, come together and support the entire education community."
Two other buses not involved in the accident returned to the school, and students were dismissed early. Tedesco said school will be open Friday, and grief counselors will be on hand to assist the students and staff.
A red dump truck with a mangled front end was parked along the highway nearby. The truck was registered to Mendez Trucking, of Belleville, and had "In God We Trust" emblazoned on the back of it.
Mendez Trucking has about 40 drivers and trucks, according to the Federal Motor Carrier Safety Administration. Its trucks have been in seven crashes in the last two years, none of them fatal, according to FMCSA.
The company was fined $22,850 in 2016 for violating regulations on inspections, repairs and maintenance and post-crash drug and alcohol testing, according to the FMCSA.
Mendez trucks have racked up more than 130 violations in the last two years, according to FMCSA, including 27 for excessive weight, 17 for leaking, spilling or falling cargo and four speeding violations - three of them this year.
The company also has a higher than average vehicle out-of-service rate, which means inspections found violations which had to be corrected before the vehicle could be returned to service. Mendez's rate was 37.9 percent, according to FMCSA. The national average is 20.7.
Officials say the students were wearing seat belts. Both drivers are cooperating with police.
The Paramus Police Department has set up a hotline. Additional information regarding the bus accident can be obtained by calling 888-407-9628. This line will be updated as needed.
(The Associated Press contributed to this report)
http://abc7ny.com/child-and-teacher-killed-43-hurt-in-nj-school-bus-crash/3486757/


Wenn




Location

: TX



Car drivers & passengers thì cần seatbelt. Why school buses thì ko cần, putting our children at risk. This is what's wrong with America. It doesn't make any sense.


CoconutWater





CoconutWater
_________________


8DonCo





Trời này mà có coconut water mà thì quá tuyệt


dakao2





8DonCo wrote:

CoconutWater
Thank you chủ chợ

. Ko biet ben canada xe bus có seatbelt ko heng.
dakao2 wrote:Trời này mà có coconut water mà thì quá tuyệt
Dakao chịu khó leo cây dừa



CoconutWater





CoconutWater wrote:Car drivers & passengers thì cần seatbelt.  Why school buses thì ko cần, putting our children at risk.  This is what's wrong with America. It doesn't make any sense.  
Really, school bus ở Mỷ ko require seat belt?


truong vo ky





CoconutWater wrote:Thank you chủ chợ . Ko biet ben canada xe bus có seatbelt ko heng.

school bus ở đâu cũng không có seatbelt vì cái design nó khác, read this why

On the rare occasion that there is a collision involving a school bus, the question is always raised as to whether there is a need for seat belts in school buses.
School buses have an enviable safety record. They are already one of the safest methods of transportation. It is 16 times safer than travelling in a family car per passenger/kilometre of travel.
Safety experts, including the Canada Safety Council, do not believe seat belts on school buses would improve safety. There is no scientific evidence that lives would be saved. Transport Canada has applied approximately 40 safety standards to the design and construction of school buses made in and imported into Canada. These include specialized brake systems, lighting, emergency exits, escape hatches in the roof, and high padded seatbacks that cushion the impact of a crash.
School buses are not passenger vehicles. They are built to rely on safety not on seat belts, and are designed and constructed differently from passenger cars. They are bigger, heavier, and higher so they have a body-on-frame design. Newer systems, such as an anti-lock braking system would be more beneficial.
School buses protect passengers through "compartmentalization," a design that includes:



Seats with high backs;

Seats filled with energy-absorbing material;

Seats placed close together to form compartments;

Strong seat anchorages.

Research has shown that lap belts could actually increase the risk of head injuries in a head-on collision (the most common type of bus collision). By holding the child's pelvis firmly in place, the torso would whip forward; with the head striking the back of the seat in front of them with greater force than if the whole body had hit the seat. This could result in serious head and neck injuries.
Combination lap and shoulder belts would require stiffer seats, which could increase injury to students who are not buckled up. The driver cannot ensure that every child has their seat belt on; some buses can carry up to 70 children. Moreover, the shoulder belts can lead to abdominal injuries because of "submarining" – when children slip down, risking injuries to organs covered by the lap belts.
Beyond certain engineering problems, someone would need to ensure the seat belts are used, adjusted properly between uses by smaller children and larger children and repaired when damaged. In an emergency, seatbelts could hinder evacuation. Young children should not be placed in a situation where they are responsible for their safety.
Although school buses have an excellent safety record, mishaps can happen. These mishaps can happen on the bus, however, it is more common for injuries to be sustained once outside the bus, including being hit by their own school bus or other vehicles.
Children who walk to school or use other forms of transportation are exposed to higher risk than travelling on the school bus.
_________________


8DonCo





sad ...

RIP!!
cầu mong cho những người còn lại tai qua nạn khỏi !!!


nhatrangdep





xe bus thuong cũng kong có seatbelt mà


Tom Kho





---
Permissions in this forum:
You
cannot
reply to topics in this forum