Jocelyn Azbell had just woken up in her Maui hotel Saturday when she was hurried into the hotel's basement to take shelter from an incoming ballistic missile.
"You're thinking, 'Oh my gosh, are we going to die? Is it really a missile (headed) our way, or is it just a test?'" the 24-year-old told CNN. "We really didn't know."
Minutes before, she'd received an ominous alert on her phone.
"BALLISTIC MISSILE THREAT INBOUND TO HAWAII. SEEK IMMEDIATE SHELTER. THIS IS NOT A DRILL."
Azbell, her boyfriend and hundreds of other hotel guests were "herded like cows" into the basement by staff. "People are crying and people obviously were super scared," she said.

close dialog


For 20 minutes, Azbell said, they waited. Finally, they were told that the alert was a false alarm, and they were free to resume their day. Azbell said she was "super relieved."
"Hawaii is beautiful," she told CNN. "But it's not where I want to die."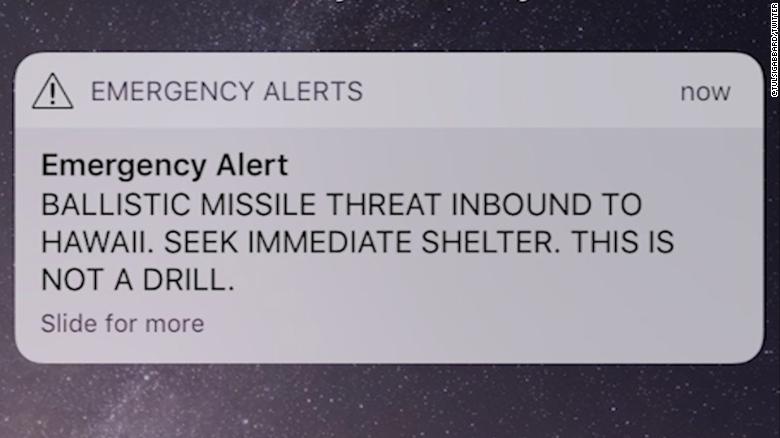 It was a similar story for other Hawaiian residents and tourists who CNN spoke to Saturday. They described an island paradise turned upside down as people crawled under tables in cafes, were ushered into military hangars and huddled around televisions to watch the news for the latest developments.
If a missile were launched by North Korea toward Hawaii, the 1.4 million residents of the islands would have only about 20 minutes' notice before it hit. The state's emergency management agency has begun testing the state's nuclear warning siren system. Hawaiians have been told their best plan of action is to remain inside and shelter in place until it's safe to leave.
But many on the islands aren't residents, but tourists. They're visiting and have had no experience preparing for a ballistic missile attack.
Some residents and visitors CNN spoke to said the escalating tensions between the United States and North Korea -- and the war of words between the two leaders -- lent the threat additional credibility in their minds.
They said they were "terrified."
Last edited by 8DonCo on Sun Jan 14, 2018 12:03 am; edited 1 time in total
_________________


8DonCo





just false alarm .... làm bà con chạy quá trời
_________________


8DonCo





I think US government tries to test people reaction

Similar topics
---
Permissions in this forum:
You
can
reply to topics in this forum